Carpet Cleaning Highbury N5
If your home in Highbury need thorough Carpet Cleaning, our local Carpet Cleaners in Highbury N5 can help you.
Call us today on 020 3409 1608 and get 50% Off!
Domestic Cleaning Company Highbury carpet cleaning Highbury N5 end of tenancy cleaners nearby postcodes N1, N7, N4, N16 house cleaning
Need a good cleaner In Highbury and Islington? Look no furtherů..
In the N5 area people work very hard and don`t always have a lot of time to do the cleaning. The last thing anybody wants to do after a tough day at the office is come home to a mess, or to spend hours scrubbing away at stains and mucky floors. At Eva Cleaners we want to take away that burden, and give you a service which leaves you happy when you get back from work, free to enjoy your precious leisure time!.
We are professional cleaners operating throughout the N5 postal district. We employ a number of staff and amongst our customers are homeowners, student hall managers and companies. Our cleaners can work on a one-off basis, if say you have to clean your house at the end of your tenancy, or if you need to get your office tidy and shiny in time for a meeting. We can also complete individual cleaning jobs such as cleaning the oven, washing the windows or cleaning carpets.
Our staff are thorough and reliable and the hours we clean are very flexible. We clean commercial premises in N5 and we are able to do so outside of normal working hours so that your office will be nice and shiny when you come in to work in the morning. We can offer cleaners daily or intermittently, depending on your needs.
Our cleaners serve the Highbury and Islington areas of London. The district is of course the home of Arsenal Football Club, who play their home fixtures at the Emirates Stadium, and their previous ground, Highbury is still relatively intact, with apartments built into the two main stands. Highbury was once home to the famous Wessex Studios, where albums were recorded by the likes of Queen, The Clash, Genesis and the Rolling Stones. The area was also used as filming locations for Four Weddings and a Funeral and Fever Pitch, and it is the home of comic TV character Mr Bean, played by Rowan Atkinson.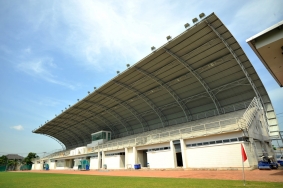 Rowan Atkinson is one of many famous residents of the area, along with politician Boris Johnson, BBC reporter Nick Robinson, comedians Alan Davies and Jimmy Carr and the food writer Nigel Slater. Historically, Highbury was a very significant focal point during the peasants` revolt, when 20,000 peasants invaded Highbury Manor, the stately home of Lord Robert Hales, who was executed on Tower Hill. Highbury House was once an iconic landmark in the district but it has since been demolished.
The area does boast a terrific social scene, largely centred around the clubs and restaurants on Upper Street. The Almeida Theatre hosts a dance festival every year along with regular Operas and productions. If you are desperate for fresh air and open space, the park at Highbury Fields offers you tranquillity and a welcome escape from the city.
If you are living or working in N5, and need help with cleaning, call Eva Cleaners and let us know how we can help you. We will do our utmost to accommodate your needs and we can provide our own supplies and materials. Now is the time to do renew your library card in the local council or just get involved in the community events in the Borough of Islington. For more details, just check their website
here
. And leave the cleaning to us!.
Postcode N5 nearby postcodes N1, N7, N4, N16