25

Feb 2013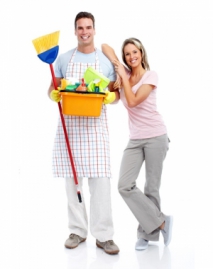 Cleaning is a tedious job, but unfortunately it is one that should be done on a daily basis. If your home is untidy, it may take a couple of hours a day for a week or two to get your home clean, dust and bacteria free. Thereafter the cleaning should only take a few minutes a day. How often you need to clean varies with each chore.

The best thing that you can do is make yourself a cleaning rota to ensure you remember to clean everything that needs cleaning. On this rota include anything particularly specialised, that may take a while, and duties like cleaning the curtain's and cleaning your cleaning equipment, which can often get forgotten about. Here is some advice that will help you to make up your cleaning schedule:
• The Kitchen must be cleaned at least once a day. The kitchen is where most of the germs and bacteria are in our homes originate from, therefore there are some daily cleaning duties that should be undertaken.
o wiping all surfaces with a suitable cleaner to remove germs,
o putting everything that isn't being used away in cupboards,
o Washing the dishes and storing them when they are dry. Try to wash dishes immediately after eating, it makes cleaning them easier and gives germs less time to breed.
o Cleaning the sink
Some of the kitchen cleaning, however, can be done on a weekly schedule, this includes:
o Cleaning the interior and exterior of your fridge-schedule this in to do just before you buy your weekly shop so you can get rid of any out of date food.
o Cleaning the entire of your oven, including the hobs, grill pan, knobs and the inside of your oven.
• How often you need to clean your living room will vary depending on how much it is used, how many people live in your house and whether any of those people are children, how many pets you have, how many visitors you have. As a general idea, you should vacuum the flooring two or three times a week, if not daily and clean surfaces and tidy the room daily. You should vacuum any upholstery monthly and shampoo carpets and upholstery once or twice a year.
• As with the kitchen you should clean your bathroom. Faeces, urine and saliva contain a lot of germs, therefore the following should be completed on a daily basis:
o Wipe over surfaces, the sink, and the bath.
o Try to clean your toilet daily.
o Hang up any towels after use.
Some jobs only need doing one or twice a week though, depending on how often the bathroom is used and by how many people:
o Sweep and Mop the floor.
o Replace all towels with fresh ones.
o Clean any mirrors.
• Bedrooms are far easier to keep clean.
o Daily: give each bedroom a general tidy, make the beds, tidy anything that has been left out, air the room, remove any dirty laundry
o Weekly: change the bed sheets, dust the furniture and vacuum the floor.
o Monthly: Vacuum, air and rotate the mattresses.
There are some other things that you should remember to add to your cleaning rota:
• Clean your windows.
• Clean your cleaning equipment, things like your vacuum cleaner and any cloths you have used to clean.
• Clean your curtains once a month.
• Have an annual clean where you pull out all your furniture, remove everything from shelving etc, and have a good spring clean. You don't have to do it in spring, but do avoid cleaning in winter as the cold weather and snow/rain may hinder your cleaning.
You may also like: