08

Jul 2015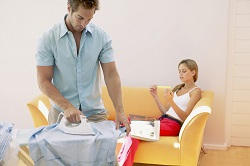 Simple Guide for End of Tenancy Cleaning
When you move out of your house or flat you have been renting then it's often requested that you hire a professional cleaner. This can be a costly process with cleaning companies charging by the hour, and sometimes the results aren't even that good. Chances are you are already spending money on a new home so it's a good idea to save where you can. Doing your own end of tenancy clean is not only possible, it can also have results that look professional. Here is your guide to cheat your expert clean.
1. Leave yourself time. Yes your clean will definitely save you some pennies but you will have to find the time to get it done. Ideally you want to leave yourself at least half a day, a whole one if possible so that you don't end up rushing, panicking and probably calling a cleaning agency.
2. Get your tools together. You are going to need the right tools for the job and the chances are you have probably unearthed a lot of them during your packing. An old toothbrush for scrubbing ground on dirt. A firm brush for lifting dirt from carpets, sofas and chairs. Some household vinegar for oven cleaning to lift the dirt, great for baked on grime and lime scale. A rough edged sponge and a microfibre cloth to finish and polish windows and glass.
3. Decide where you are going to start. It's a good idea to decide how you are going to work through the houseroom by room. It's a good idea to start with the toughest rooms first, so perhaps your kitchen or bathroom. Save the carpet cleaning until last so that you don't ruin what you have already done by dusting or cleaning and creating mess to fall. A move out clean can be a big job so take little breaks after each room or task. Keep little snacks available to keep your energy up.
4. Use an old cloth or rag to finish. Sometimes you can't see how good a job you have done if the surface is still damp or glistening. Or there may be little bits of dirt that you are just wiping around rather than removing. A dry cloth or towel is a great piece of material to just wipe over your surfaces when you are done. It not only gives an appealing appearance but one that looks like it's been done to professional standards.
5. Make sure you have room. Ideally you want to go ahead with your end of lease cleaning when you have already moved all of your stuff. This is the time when you would call in cleaning services anyway. If it's not possible then make sure you pile all of your things into the room that is easiest to clean. Possibly the bedroom. Try to make sure you have done a bit of a dust and hoover on this room first. That way you will clear space to get to work and you will have less to do when the last of your stuff is out. Perfect if run out of time.
You can definitely create fantastic results yourself and your landlord will never know, just get down to all those little bits of dirt with your fine toothbrush and really put some elbow grease into it. A good tip is get a friend to check after and see if there is anything you might have missed, they can give you another opinion or if they are a very good friend then maybe some extra help!
You may also like: