02

Aug 2013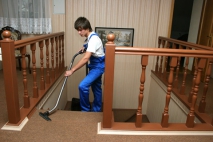 Top Tips on Cleaning Your Property at the End of Your Tenancy
After you've found a new place to live, its time to think about packing and tidying up for the move. This can either be done by you and those you live with – be they family or friends – or you could hire a cleaning company to come in and do the job for you. Of course, they'll just clean your house and organise your belongings for you; they won't pack your things for you as well. If you decide to do it yourself along with your house/flat-mates or family, remember to neglect the following three items or areas:
1) Carpet
This, of course, only applies if you have carpet. If your home is one where floorboards rule, then skip to section 2. Carpets, unlike floorboards, gather dust, fur, and dirt with consummate ease, as well as being prone to food and drink stains. All of the aforementioned may be superficial by nature, but they are not pleasing to the eye or any other senses. If left unclean, or they have been cleaned but not vigorously so, this will unquestionably make money off your security deposit or it will hard to sell your house for as much as possible when potential buyers come round and see a dusty, stained carpet. Carpet cleaning, however, need not be a difficult task. If you wish to do so, an outside carpet cleaning company can be hired for rates of around £10 per hour. If not, then you can purchase good carpet stain remover products from any good supermarket. Combine stain remover with a hover and your carpet should be clean enough.
2) The Stove, Hobs and Oven
An oven, assuming that you are not the owner of the one you currently use in your soon-to-be former residence, can cause you the most hassle and cost when it comes to cleaning it in preparation for the end of your tenancy. In fact ovens are so difficult to clean, it takes years to learn even how to do it properly. But this doesn't mean you can't give it a good going over. The stove will be relatively easy to tackle. Some good all-purpose stain remover, hard work and determination should do the job. If yours is particularly dirty, then, depending on the size of it, oven cleaning companies will charge around £25-30 for making a hob and stove pristine.
As for the actual oven, this may be a more difficult task. If your oven is cleaned regularly, then getting all off at once just before the end of your tenancy agreement means you could be there for hours. If your oven is relatively clean, then cleaning it yourself shouldn't be that hard; simply go to the supermarket and buy a good oven cleaner. If it's caked in black remnants of old food, then your best option may be to hire an oven cleaning company. Depending on the size of your oven, an oven cleaning company will charger anywhere from £50 to £130 to make the oven sparkle.
3) Nooks and Crannies.
The last thing you want to happen is to lose money on a security deposit because you either forget or neglect to clean the spaces that no one thinks about: dusting the top of the fridge; clearing out the junk that's fallen down the side of your bed and so on. A landlord or estate agent may be happy with the cleanliness of the majority of your property, but still may consider it fit and proper to hire a cleaning service to make sure all the surfaces, cracks, nooks and crannies are spotless. This will come out of your deposit and can be averted by giving your property a quick whip round with a duster, stain remover and a J cloth.
You may also like: