01

Dec 2013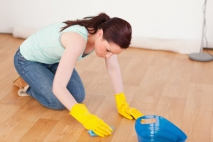 Essential Cleaning Hacks for Your Property
It is all too easy to fall in to a routine when it comes to cleaning. The fact of the matter is that it is so boring that no one wants to give it that much thought! If you do turn your attention to it for a second, however, you may well find that there is a lot that can be done to improve the quality, speed and ease of your cleaning habits by simply reassessing them once in a while. Admittedly developments in cleaning technology are not exactly front-page news, and that is why it can be nice to find a few ideas as to how you can get your place cleaned in a different way, all in one place! There are many different cleaning ideas to be found, so have a look through a small selection of them, to see if any strike you as ways that could work in your home.
For a start, there are methods of cleaning that have been used for a while, and are not exactly revolutionary, but can make a difference, just in terms of doing things a little differently. Steam cleaning is the main one that you will find has been taken on in leaps and bounds over the last couple of years. There are now handheld steam cleaners, which can be used instead of household chemical surface cleaners. The machine heats up water to a high temperature and then blasts it out when you push a button. This will loosen the dirt from the surface with its high heat and pressure. The result is a surface that you can simply wipe clean. Some steam cleaners have brush attachments at the nozzle, which are good for scrubbing tougher stains with. This will ensure that you are using double action to get rid of the dirt! There are larger cleaners for hardwood flooring that are great for covering large areas, using only water to clean them. This is a cheap but effective option, though the initial outlay on such machinery can be expensive. You should do a little research on the techniques like these, to ensure that they will work for your home before buying any expensive equipment. Some flooring or surfaces may not be right for steam cleaning, and you would not want an expensive material to be damaged by the high heat!
There are stranger methods of cleaning afoot, however! There are things in your house that you would never have known could help you, and the internet is full of weird and wacky ways in which you can get the place looking great, without even having to reach for your normal cleaning products. Lemon, vinegar and baking powder are the regular culprits in the strange 'recipes' that you can make to produce cleaning products from scratch. Try combining a little vinegar, a lot of lemons, and some baking soda for a great cream cleaner that will tackle bathroom stains and limescale! You will admittedly have to increase the elbow grease a little in order to ensure that you get the stain away, or maybe wait for the product to do its job for a little longer, but you will be expelling the often harmful chemicals found in regular cleaners from your home, which can only be a great thing!
Try rubbing toothpaste on piano keys, mayonnaise on wood burns, and bread on oil paintings, for some surprising dirt removing results! There are thousands of different things that can help, it's all out there on the world wide web!
You may also like: