08

Aug 2013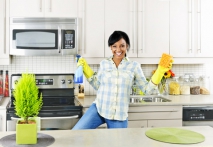 Affordable Natural Cleaning Ideas
If you're looking for a cheaper and more environmentally-friendly alternative to chemical cleaning products then look no further. There's a reason lemon-scented products feature heavily in the household cleaning product market as they smell fresh and clean, but did you know that there are many ways you can use lemons around your home to keep it looking spick and span? The low pH levels of lemons make them a non-abrasive cleanser, and lemon juice has antibacterial properties. Here are just a few ways you can utilise lemon juice around your home to keep it looking – and smelling – great.

1) To restore grills, griddles and grates to their former glory rub them with a mixture of lemon juice and salt. Wipe with a damp, clean cloth to remove any excess products or grime to reveal good-as-new appliances.

2) Cut a lemon in half and place one end on a paper towel or dish in your fridge. The lemon will work to remove odours, but make sure to replace it weekly to avoid it rotting!

3) If you're looking for smudge-free mirrors and chrome surfaces on a budget try adding a couple of tablespoons of lemon juice to a spray bottle of water. Spray the mixture onto any tarnished glass surfaces and buff away. Using lemon instead of white vinegar here leaves your home smelling a little fresher!

4) If your bathroom's looking less-than-great thanks to hard water stains try giving them a scrub with half a lemon. The stains will vanish and this will leave your bathroom smelling great!

5) Did you know that the juice of a lemon will help ease clothing stains such as grease? Simply rub the juice into the stain, leave overnight and then wash in the washing machine as normal. The lemon juice will help to lift the grease, meaning a spin in the washer will destroy any traces of staining. Try to avoid using lemon juice on delicate fabrics as this can cause staining and damaging. If you aren't sure, try testing it out on a small and inconspicuous area first!

6) If you use plastic food storage boxes around your home you're probably aware of how difficult it is to remove stains and odours. Try soaking your tubs and boxes in diluted lemon juice and scrub them with bicarbonate of soda. This will leave them looking and smelling as good as new!

7) To keep bathroom and kitchen tiles in tip-top shape buff undiluted lemon juice into the grout with an old toothbrush. There's no need to rinse away, as lemon juice won't cause any damage to tiles and grout.

8) Remove stains from your kitchen cutting boards by soaking them in lemon juice. Tough stains may have to be left to soak overnight, but rinse well in the morning to reveal stainless surfaces!

9) Did you know you can create a foaming-action drain unblocker at home with lemon juice and bicarbonate of soda? Simply pour bicarbonate of soda down the drain you wish to unblock and follow with undiluted lemon juice. Leave for ten to fifteen minutes and rinse away. This will only work for minor blockages, but this provides a safer and cheaper alternative to nasty household chemicals!

10) To spruce up your toilet bowl simply pour in half a cup of lemon juice and give it a good scrub with your toilet brush.

11) Make your bathroom and kitchen taps sparkle by buffing them with undiluted lemon juice. Try using an old or soft toothbrush for maximum results.
You may also like: