16

Jul 2013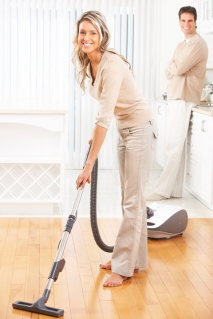 Reasons to Hire a Cleaning Company
For some of us, cleaning can be a never-ending hassle; a task that is always incomplete and is constantly being added to. Whether cleaning is just a chore you despise, or there aren't enough hours in a day, the services of a cleaning company could come in very handy. Cleaning companies operate in a saturated market, meaning that they have to compete on price with rival services in order to maintain their business. The benefits of this trickle down to the consumers and, as such, hiring a cleaning company could not be as expensive as you think.
Probably the biggest advantage of using a cleaning company is that needless to say, you don't have to do it yourself. Maintaining a clean home will require hours of work per week. For some of us, this an enjoyable chore; making your house pristine and in its most presentable state can be enough motivation to clean day-in day-out. But for most of us, devoting that much time of the week to cleaning can seem like a fruitless task as the process will all begin again tomorrow. Moreover, some of us simply don't have the time or don't want to use whatever spare time we have on house chores. If you are one of these people, then hiring a cleaning company is a very suitable option. Using a reliable and respected service means the chore of cleaning can be put out of your mind completely, for an hourly rate starting at around £15 an hour, possibly more, but possibly less.
Another benefit of using a cleaning company is the level of professionalism you receive. As you are paying for the service, companies know that you expect the best and will not settle for any cleaning that is sub-par as you can simply take your business elsewhere. Thus if your disposition isn't inclined to cleaning, you may do a half-hearted job of cleaning your own home. If you pay for a service, however, you will get a thorough cleaning job done to whatever standard you ask for.
These advantages are in in the context of cleaning for the sake of maintaining a tidy home, week in, week out. But the advantages of a cleaning company really come to the helm when you have no choice but to clean your house extensively. For example, if you've just come to the end of your tenancy agreement and your house is in a state that requires deep and extensive cleaning, then the services of a cleaning company may be of great benefit. Tidying and cleaning your entire home – from top-to-bottom – is a chore that will take any amateur cleaner hours, if not days, to do. A cleaner from a cleaning company is likely to be vastly more efficient than you are unless of course, you consider yourself to be a domestic god or goddess. Likewise, if you've just had your bathroom redone, or your kitchen etc. then a cleaning company could, again, be a suitable option. They'll get rid of all the dust and dirt left by the builders with consummate ease whilst you can do other, more interest things.
Basically, if cleaning just isn't your thing, or they just aren't enough hours in a day, then strongly consider the benefits of a cleaning company. Obviously they cost more than you do it yourself, but they are modestly priced and let you go on spending your leisure time how you wish to. Most will even offer you discounts if you book in multiple appointments, or book yourself a weekly time slot.
You may also like: