23

Feb 2015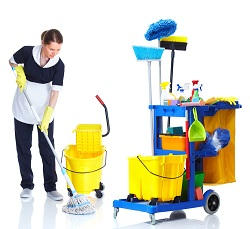 House Cleaning Tips You Can't Live Without
Whether you're a regular domestic goddess, or if you dread the thought of cleaning, everyone can benefit from knowing more cleaning tips for their home! If you want to have a cleaner home and sanitise your home like professional cleaners, then here are some fantastic tips for you!
1) What to keep in your cleaning cupboard.
You can't expect to clean as well as a professional agency unless you have the right products, tools and equipment in your cupboard. Make sure you always have a supply of bleach, drain cleaner and multi-purpose antibacterial spray, as well as cleaning tools such as sponges and polishing cloths. If you use a vacuum cleaner that needs bags, then always have a spare pack in your cleaning closet! You might also want to make sure that your shelves are well-stocked with items that you can also use for cleaning, so add lemon juice, white vinegar and bicarbonate of soda to your shopping list if you don't already have them!
2) How to create a cleaning routine that works for you.
One of the biggest reasons as to why people don't clean their homes as often as they should is because they simply can't find the time. If this sounds like you, then making a routine could really help! Take the time to sit down and write out your weekly schedule, so that you can see where you can spare some time to polish your furniture or vacuum your carpets. You can now make this list into a weekly to-do list so that you never forget any of your cleaning jobs!
3) Using lemon juice in your home.
Did you know that the natural antibacterial properties in the citric acid of lemon can sanitise your home? Keep a bottle of fresh lemon juice in your home and you can use it for a multitude of purposes! Try mixing with water for a quick and cheap antibacterial spray, or store in your fridge to keep it smelling clean! You can also use a lemon to clean your microwave – simply place a few drops of juice into a bowl of water and microwave for one minute. The heated water and lemon with created steam that will make muck and dirt easy to wipe away inside your microwave! Lemon juice makes for a fantastic fresh-smelling bathroom cleanser too, so why not use it to sanitise your bath and sink for easy bathroom cleaning?
4) Using bicarbonate of soda in your home.
Bicarbonate of soda, when combined with warm water, creates a thick paste that can be used for everything from cleaning your kitchen tile grout to remove blemishes from your silver jewellery! You can even mix together white vinegar and bicarbonate of soda for a fast-acting and reliable drain unblocker, so always keep a container of bicarbonate of soda in your kitchen cupboard!
5) Hiring a cleaning company.
If you want to have a fantastically clean home without having to work for it then you should consider hiring a professional cleaning agency. Cleaning companies offer a wide range of home cleaning services, so whether you're looking for upholstery or rug cleaning, it's worth finding out what your local companies can provide for you! Always research any companies you're thinking of hiring online so that you can be sure you're getting the most for your money!
You may also like: