07

Sep 2013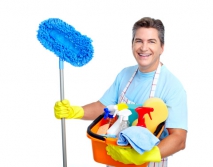 Simple Ways to Get Rid of Unwanted Bad Smells from Your Home
Unfortunately, no matter how often you clean your home, you might find yourself battling with unwanted and unpleasant odours. If this is a problem you currently face then have a look at this list of handy hints and tips to get your home smelling fresh and clean.
- Refresh your carpets.
Odours can linger for a long time in your carpets and rugs, even if you vacuum or steam clean them on a regular basis. Try purchasing a deodorising powder to use before you vacuum so you can keep your carpets smelling fresh. This is also a great way to get rid of that just-vacuumed scent. If you don't want your home to smell too artificial then try sprinkling down some bicarbonate of soda before vacuuming – this will soak up any odours without leaving any behind.
- Regularly clean those items you might forget about.
Your sofas, curtains, mattress and pet beds can all leave your home smelling less-than-fresh unless you service them regularly. A steam cleaner is the best way to ensure you're killing bacteria and keeping unwanted odours out of your soft furnishings. If you don't own one then consider investing in one, or at least think about renting one from your local cleaning agency.
- Use air fresheners and deodorisers.
There are many different types of air fresheners and deodorisers available on the market today. They're a great way to keep your home smelling fresh and clean, so if you want to banish unwanted odours then air fresheners are a great and purse-friendly option. If you don't want heavily perfumed scents to linger then try using a wet spray as opposed to the traditional aerosol air fresheners for a lighter and more natural scent.
- Try to leave your windows open wherever possible.
Letting as much air into your home is going to keep it smelling as fresh as possible. Try to ensure you're airing out your home on a regular basis – this is the most natural way to combat musty smells and unwanted odours.
- Dry your clothes elsewhere.
If you dry your clothes on your radiators or on a drying rack in your house then try drying them elsewhere. A washing line or your tumble dryer mean your home is less cluttered, and there are no laundry scents in the air. As your damp clothes dry they can create unpleasant and unwanted scents in your home, so try drying them in a better-ventilated area and see how much of a difference it makes to your home.
- Try a plug-in air freshener.
A plug-in air freshener will release small amounts of fragrance at certain times, meaning your home is always going to smell fresh and clean without the use of sprays. If you have a busy lifestyle and don't always have the time to spritz away those nasty smells in your home then a plug-in air freshener is a great way to keep your home smelling fresh with minimum effort.
- Scented candles and other more natural alternatives.
Try lighting scented candles or purchasing and displaying fresh flowers in your home if you're looking for a less-heavy and more natural alternative to chemical air fresheners. Not only will this help combat unwanted odours, but they'll also help the ambience and aesthetics of your home.
You may also like: