17

Aug 2013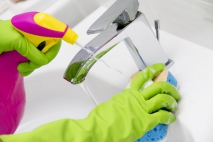 Carpet Cleaning Hacks That Can Save Your Carpet
You might be under the impression that dingy or worn carpets are going to cost you a fortune to replace. If replacing your carpets is out of the question, but you're still having to cope with stains and spills, you might have been considering buying a steam cleaner. Admittedly, steam cleaners are a great way to get stains out of your carpets and keep them looking fresh and clean, but they can be costly. If you're trying to keep your carpets in tip-top condition on a budget, then there are a myriad of things you can do that are more cost-effective than you might have thought. Here are just a few of the ways you can keep your carpets looking – and smelling – great.
1) Before vacuuming sweep over carpets with a broom. A broom will help to lift any excess dirt without damaging your carpet, making it easier for the vacuum to do its work.
2) Instead of spending your money on expensive carpet deodorising powders you can make your own with bicarbonate of soda. Simply sprinkle a thick layer onto your carpets, leave for a couple of hours and then vacuum away. The powder will absorb any lingering scents in your carpet, and it won't leave behind any artificial scents. If you share your home with babies or pets then using bicarbonate of soda to remove odours is a safer alternative to chemical products.
3) You might not be able to afford to purchase your own steam-powered carpet cleaner, but that doesn't mean you won't be able to get your hands on one. Many cleaning companies now rent steam cleaners, so if you simply want to borrow one it isn't going to cost you the earth.
4) Buy a plastic spray bottle and create a mixture that's half white vinegar and half water. Spray onto any stains you might find on your carpet and let it soak for a few minutes. Use a clean damp cloth to blot away the concoction – don't rub as this could help to set the stain! You might think this will work better with hot water, but hot water is more likely to create a more stubborn stain. Lukewarm water will work just as well and decrease the chances of the stain setting. This natural alternative to carpet stain removal is extremely effective, though it may be a process that needs repeating to get the best results! If you're concerned about causing any damage then try to test this out on an inconspicuous part of your carpet – this natural remedy isn't likely to ruin your floors, but it's always worth being on the safe side!
5) If you just can't cope with your carpets any longer, but you can't afford to replace them, invest in a rug. Make sure you keep on top of its condition by cleaning up any spills immediately to prevent staining, and clean it regularly.
6) A mixture of lemon juice and salt will work wonders if you're trying to remove stains from light-coloured carpets. Again try to blot rather than scrub so as to avoid setting the stain. Don't forget to test this on a hidden part of your carpet to ensure you won't be causing any damage!
You may also like: