13

Sep 2013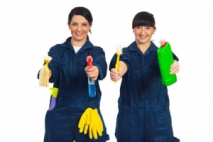 Handy Hints to Help Keeping Your Garden Clean and Tidy
If you're doing a one-off clean of your home this summer then it's important not to forget about your garden! If you share your home with children, pets or if you're just planning on enjoying the sun then your garden can get very messy very quickly. Here are some handy hints, tips and tricks to get your garden looking clean and tidy.
1) Dying grass.
Hot weather can be deadly for plants and grass, which means that you might have to deal with unsightly patches of dead grass in your garden. The same can be said for areas of your garden that see the most action – underneath a swing set, for example, gets trodden on so much that the grass can die and leave patches of dirt. Alternatively, if you have cats or dogs, their urine can destroy the grass. If you think your lawn might need replacing then don't hesitate to do so. Your lawn is integral when it comes to the appearance of your garden, and if you feel it's past its prime then don't think twice about it! If you don't have the funds to do so through then don't fret. There are plenty of gardening products on the market which can make your lawn look as good as new – just make sure they don't use any chemical ingredients which could harm your pets.
2) Cleaning flagstones and pathways.
Hire out a steam cleaner or a high-powered jet washer to get your driveway, flagstones and pathways looking as good as new. You'll be surprised at just how filthy they can get, and how much of a difference this small step can make to your home and garden.
3) Toys and games.
If you have children then chances are they're going to be in the garden whenever the weather permits it. Although being outside can be a great opportunity to make a bit more mess than you would inside the house, it's important to make sure your garden still looks neat and tidy. Invest in a storage facility that's suitable for outdoor use, so you can store all your children's outdoor toys and games without cluttering up your lawn.
4) Swimming and paddling pools.
Swimming and paddling pools are great and fun ways to get your kids playing out in the sun. However, the excess water can drown and kill your grass and plants. If you're wary of this happening in your garden try putting down a plastic sheet beforehand so you're less likely to cause damage.
5) Pet mess.
If you have pets it's likely you have to deal with pet excrement in your garden. Try to get into the habit of cleaning it up immediately, so you won't have to deal with any nasty surprises when you have guests over for a barbeque! You should also keep a bucket handy in your garden so you can rinse away urine which has the power to potentially stain your grass and damage your lawn.
6) Barbeque debris.
If you're planning on throwing a barbeque or a garden party this summer then make sure you clean up immediately! Leaving your barbeque out overnight can damage it should the weather take a turn for the worse. Also, leaving out cutlery and cooking utensils leaves them likely to become tarnished or even rust if the rain does begin to fall.
You may also like: