01

Sep 2013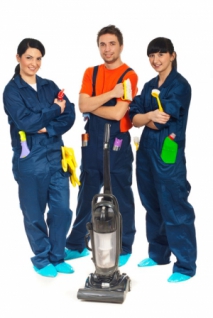 Benefits of Deep One-off Cleaning
Your home will benefit not only from regular cleaning, but also the occasional deep one-off clean. Deep-cleansing your home will ensure your house is immaculate in its condition, and create a nicer atmosphere for you and your family. The occasional deep-clean can also help the efficiency and longevity of your appliances, furniture, electricals and soft furnishings. If you're looking to introduce a one-off clean into your routine then have a look at this guide to help you plan for the best results.

1) Start by making a list of all the rooms in your home. Think about big items of furniture you might want to move, like your bed or wardrobe so you can clean behind and under them. Don't forget to list the places you rarely clean, like behind your radiators or your picture rails.

2) The best way to start your one-off clean is to de-clutter your home. Any items you no longer use or that no longer work can be donated, sold or binned. Think carefully about the choices you make!

3) Go through each room one by one. Don't start in one area and then flit to another – you're likely to forget what you're up to or even end up creating more of a mess.

4) A deep-cleanse of your home includes all the surfaces you see and use. Don't forget that you're going to want to scrub down your walls, doors, door frames and handles as well as your kitchen and bathroom surfaces, drawers, floors and windows.

5) Your kitchen appliances should be regularly cleaned, but sometimes it's hard to keep up. Invest in some products to help you deep-cleanse your oven and microwave and don't forget to remove any traces of limescale from your kettle!

6) Any chopping boards should be sanitised. You might think your dishwasher or regular hand-washing is enough to kill lingering bacteria, but it's important to sanitise your chopping boards individually. Use half a lemon to remove stains – the citric acid will also work as a natural anti-bacterial agent.

7) A one-off clean is a great opportunity to root through your garage, shed or attic to get rid of all those things you never use. These areas of your home are likely to get forgotten when it comes to your regular cleaning routine, so take the opportunity to thoroughly clean these areas.

8) Your drains and gutters should be cleaned annually to prevent any blockages or drainage issues. If this isn't something you feel confident in doing then don't be afraid to hire in help – when it comes to plumbing or draining issues, you don't want to end up making any costly mistakes.

9) Steam cleaning can be an expensive and lengthy process, but if steam cleaning isn't a part of your regular cleaning routine then your one-off clean is a great time to get into the habit. If you can't afford a steam cleaner consider renting one for your big clean. A steam cleaner will kill bacteria and destroy any odours trapped in your carpets.

10) Your appliances can become clogged with dust, dirt and grime. Make sure you clean behind your washing machine, tumble dryer, refrigerator and freezer. Dust can become trapped in the motors and mechanisms of your appliances, so make sure you clean thoroughly to improve the efficiency and longevity of your bigger and more expensive items.
You may also like: