04

Jul 2013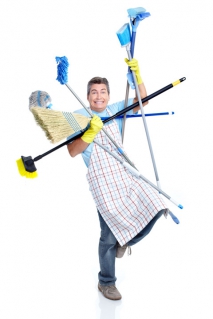 Professional vs. Domestic Cleaning at the End of a Tenancy
When your tenancy is about to come to an end, there is an endless list of things that you need to worry about. This includes finding a new place to live, packing and shifting all of your belongings, getting paperwork done to inform other of your change of address, giving meter reading and so on…the list really is endless. If you thought that was enough to worry about, let me add just one more task that many people do not remember until the very end – the all famous end of tenancy clean.
For those of you who are unfamiliar with end of tenancy cleaning, it is like a spring clean but at the end of your tenancy. It is not compulsory in all cases although more and more landlords are starting to enforce the idea to avoid having to do it all themselves. It is also courteous to ensure that you leave a place in the condition that you got it in so that the next tenant can enjoy it as much as you did when you were a tenant.
However, end of tenancy cleaning is a little different, since you have to pay attention to all these little things that you may only pay attention to once every few months e.g. cleaning the skirting boards, cleaning the dishwasher from the inside etc. meaning that it can be more time consuming than you expect.
Many people, therefore, decide to hire a cleaning company that offers end of tenancy cleaning services. Professionals will come and clean your home professionally and will follow the end of tenancy cleaning guidelines, of which they are well aware.
One of the advantages of hiring professionals to come and clean your rented property for you is that you do not have to lift a finger, meaning that you can get on with stressing over all of the other things that need to be done. Alternatively, if you are in full-time employment or are in charge of looking after a family with children, you will be able to go about your daily business whilst professional cleaners get on with the cleaning.
However, one of the main reasons as to why people decide not to hire these end of tenancy cleaning services is due to the price. Depending on the type of rented property that you live in, you may think that the quote is a little too high for your liking, especially when you compare it to the cost of doing it yourself. Always get a few quotes from different companies to allow yourself to save some money should you come across a cheaper company.
Professional cleaners have been doing this for numerous years and have been trained to know all there is to know about cleaning different surfaces. This means that your home will be cleaned thoroughly, professionally and a lot quicker than if you were to do it. So if you are short on time (because you have left the cleaning to the last minute), hiring professionals to undertake the end of tenancy cleaning will not be a bad idea at all.
End of tenancy cleaning is being enforced by more and more landlords and even if your landlord is not one of them, it is recommended that you leave your rented property in a clean, proper state (as it was when you moved in). Not only is this the right thing to do, but it will also leave a smile on your landlord's face, as well as the new tenant.
You may also like: