10

Sep 2013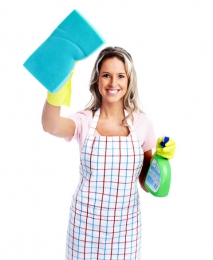 Best Kitchen Cleaning Hacks
- Kill bacteria on the surface of your bins by mixing together a spray bottle of distilled or white vinegar and water. Spray liberally on both the inside, outside and lid of your bin before rinsing thoroughly. This will help to get rid of stains and smells. If you aren't a fan of vinegar then try using lemon juice instead.
- Clean your kitchen taps by gently buffing at them with a soft toothbrush. Use a combination of lemon juice and bicarbonate of soda to remove limescale and leave your taps sparklingly clean.
- It's important you clean your cooker on a regular basis to ensure you're getting the most from it. There are plenty of chemical cleaning products available on the market for you to try, but if you're wary of using chemicals in places where you cook you and your family's food then try a combination of lemon juice and water instead. For dried-on food stains let the mixture sit for up to fifteen minutes before wiping away.
- The best way to clean and refresh your microwave is to place a microwave-proof bowl of water inside. Run the microwave on full power for two to five minutes to create a steam cleaning effect. Then simply remove the bowl and wipe down the inside of your microwave to get rid of food splatters and stains.
- Cleaning your dishwasher on a regular basis will help to make sure you're getting the best clean possible for your cutlery and crockery. Try buying a dishwasher cleanser and run the machine on empty with this inside. This will help to clear away food particles and clean the insides of your dishwasher, improving its lifespan and providing a more thorough clean for your kitchen utensils.
- Make sure your storing your cutlery, crockery and kitchen utensils in a hygienic place. You should regularly empty your cupboards and drawers and wipe them down with an antibacterial or disinfectant spray to keep them sanitary. If you're using a disinfectant spray then make sure you leave your cupboard doors open to air them out before storing anything in there.
- Revitalise old or stained wooden chopping boards by rubbing at them with half a lemon. Let the lemon juice soak into the wood for up to thirty minutes before rinsing away. This should help to get rid of any unwanted stains and leave your chopping boards looking as good as new.
- Your fridge needs to be emptied of expired products and cleaned on a regular basis. Take everything out and wipe down the insides with a mixture of lemon juice and water for a natural and fresh-smelling clean that won't affect any of your food products. To keep unwanted odours at bay try buying a fridge deodoriser, or place half a lemon on a saucer and leave inside your fridge until it starts to go off. This will help to neutralise and get rid of unwanted fridge smells.
- For caked-on grease and food stains on your baking trays try soaking them overnight in a mixture of ammonia and warm water. Rinse thoroughly to reveal as-good-as-new oven trays and grilling racks.
You may also like: