16

Sep 2013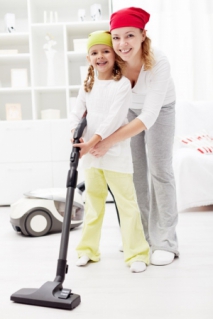 Handy Hints to Get More Space in Your Living Room
No matter how much you clean your living room, sometimes it just doesn't feel as though it's clean and tidy. This can be the case with small or big living rooms – sometimes it just feels as though you're wasting floor space. If you feel this is the case for your living room then have a look at this list of handy hints, tips and tricks to help you get more space in one of the busiest rooms in your home.
- Re-think your storage ideas.
The best way to make room in your lounge or living area is to re-think your current storage ideas. There are many clever pieces of furniture you can buy that will double as a storage solution, such as footrests, so it's worth having a look to see what's available on the market to make your living room look bigger.
If you use your living room to store books, DVDs or CDs then why not reconsider how they're stored? An increasingly popular space-saving tip is to take all of your discs out of their cases and store them in a plain CD or DVD instead. This can save you a lot of room if your living area is on the small side. Don't get rid of unwanted DVD and CD cases, box them away in another area of your home for later use.
- Swap bookshelves for floating shelves.
If you rely on your bookshelves in your living room, but you want to create the illusion of more space then why not try floating shelves instead? Using floating shelves will free up a lot of floor space, making your living area appear instantly bigger. Floating shelves are a current fashion trend as well, so you'll be ahead of the curve if you decide to follow this storage tip.
- Use a wall-bracket for your television.
Instead of a clunk and cumbersome television stand in your living room try opting for a wall bracket to hang your flat-screen TV instead. Getting rid of your TV stand is a great way to change the layout of your room to make it appear bigger and roomier. If you use games consoles, a cable or satellite box or a DVD player in your living room then make sure you think of an alternative place to store these that's accessible to your television set.
- Re-arrange your furniture.
Think carefully about the layout of your living room. How can items be moved around to get your more floor space? Can you get rid of anything? Try swapping coffee tables for side tables to make more space while still keeping your living room homely.
Try adding mirrors, removing pictures and changing your light fixture to make your room look totally different. Mirrors are a great way to reflect light around, giving the illusion that your living room is much bigger than it actually is. Try to avoid dark coloured carpets, soft furnishings and wall hangings, as these will make your living area appear more constrained and smaller.
You may also like: