19

Sep 2013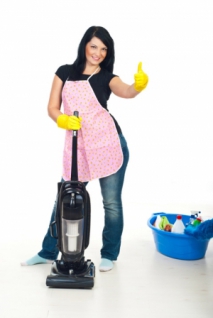 House Cleaning Tips to Easе Allergies
If you or anyone else in your household is sensitive to harsh cleaning products, has asthma, breathing difficulties or even sensitive skin then it can be difficult to get your home as clean as you might want it. Cleaning products such as bleach can be irritating to those with health problems, while disinfectant or air-freshening sprays can cause breathing difficulties for people with asthma or lung conditions. If you're struggling to clean your home and keep you and your family happy then have a look at these hints and tips for health-friendly alternatives to harsh cleaning chemicals!
- Air freshener.
Air fresheners are one of the most common household products to negatively affect those with breathing difficulties. If you or a member of your family struggles to breathe when you use your air freshener then it's time to try a new alternative! Wet sprays are much less likely to affect your lungs than traditional aerosol cans, so if you want to fight unwanted odours in your home then try swapping your usual spray for this.
- Bleach.
Bleach has an extremely overpowering odour that can be troublesome for members of your family with health problems, for young children or even your pets. Luckily there are plenty of alternatives to bleach available on the market. Try swapping bleach for an eco-friendly product which won't leave that harsh chemical smell, or even try a non-fragranced and non-scented antibacterial option instead. A cheap and natural way to sanitise your home is to use lemon juice. The citric acid in lemons works as an antibacterial agent and will leave your home smelling fresh and clean without harming you or your family.
If you feel you have to use bleach in your home then try using it in only very well ventilated areas. This will make the odour fade a lot faster and will therefore be a much safer way to use the product.
- Drain unblocker.
Drain unblockers are not only expensive, but they can have a detrimental effect to those in your household with health problems. Try using a combination of distilled vinegar and bicarbonate of soda – mix them together to create a fizzy and frothy combination and let it sit in your sink or bath for up to thirty minutes, then simply rinse away. This might not work for stubborn blockages, but it's great for regularly maintaining your drains without being harmful to your family.
- Ammonia.
Ammonia can be a great product to remove caked-on grease and food stains from your oven and oven trays, but it's yet another example of a harsh chemical that your family could benefit from getting rid of. Instead of ammonia, try soaking your stained trays in warm water and lemon juice overnight, then simply rinse away. This is a great alternative to get your oven trays looking as good as new.
- Vacuum attachments.
One of the biggest problems for those with breathing difficulties or allergies is the amount of dust in your home. Regular dusting, though helpful, will only move the dust around your home as opposed to getting rid of it. It's a much better option to buy a duster attachment for your vacuum cleaner so you can get rid of any dust or small particles in your home without too much hassle. Have a look and see what's available for your current vacuum, or invest in a portable vacuum for those hard-to-reach dusty areas.
You may also like: