20

May 2015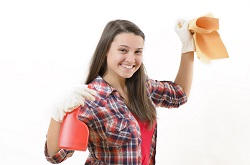 Quick and Easy Home Cleaning Ideas
Nobody wants to spend hours and hours scrubbing away and wasting away their weekend trying to get some cleaning done. It really doesn't have to be like this. The approach you take to home cleaning will make all the difference. Rush and do a sloppy job, and it'll only increase your workload the next time you are house cleaning. But spending one or two hours when you're focussed and prepared will really give you fantastic results and will mean that you'll get a lot done. So take heed of this advice, prepare well, and you'll definitely get results that you will be happy with.
1. Make a checklist.
Write down what you want to achieve in order of importance. Alternatively, write down what you predict to be the hardest or most time-consuming jobs first, and tackle them in that order.

2. Preparation is essential.
Look at what you need to do, then make sure that you have everything you need to do it. There's no use getting ready for a task, approaching it with gusto, only to find that you're lacking an essential bit of equipment that'll prevent you getting started. Get all your cleaning solutions and equipment well in advance, so that you're not cut short when you begin to clean.

3. Tackle your floor area.
If you've got a good modern vacuum cleaner, hard floor cleaning can be tackled pretty easily. However, if your floors are particularly dusty, it could be worth giving them a mop first. Dip your mop in a soapy water solution, give it a good rinse and then wring it out thoroughly. You ideally want your mop to be damp to the touch and not dripping wet. When satisfied, begin mopping your hard floors. It shouldn't take long for your floors to dry, after which put your vacuum cleaner to work. Don't underestimate the usefulness of a good vacuum cleaner. It can also be used on carpets for a quick and effective carpet cleaning method, not to mention the different attachments which mean you can use it for upholstery cleaning, sofa cleaning and even to clean your curtains and drapes!

4. Don't forget about your walls!
People often forget to clean their walls, worried that they might ruin the paint or leave smudges and marks. But just run your finger over your walls, and if you haven't cleaned them before, it's almost a certainty that you'll find some kind of dirt or dust stuck to your finger. It might not be entirely obvious due to the colour scheme of your room, but if left untreated, the dust will accumulate and spread to other areas of your house. The issue is very simple to fix. Get yourself a soft microfiber cloth and dampen it with clean water. Then simply wipe your walls from top to bottom. The water will act as an adhesive and cause the dust to stick to the cloth. If possible, get up a ladder or use an extendable duster to clean your ceiling and any light fittings.

5. Let there be light!
Let natural light flow into your house by giving your windows a good clean. All your need is a clean cloth, some scrunched up newspaper and a soapy water solution. Wipe your windows inside and out with the solution, buff with the newspaper, then wipe clean with the cloth. It really is that simple!

6. Get some help.
If for any reason you find yourself struggling, there's always the option of calling up a cleaning company and getting some extra help.
You may also like: