Carpet Cleaning Putney SW15
If your home in Putney need thorough Carpet Cleaning, our local Carpet Cleaners in Putney SW15 can help you.
Call us today on 020 3409 1608 and get 50% Off!
Domestic Cleaning Company SW15, SW18, SW19 carpet cleaning SW15, SW18, SW19 Putney end of tenancy cleaners nearby postcodes SW6, SW13, SW14, SW20, TW18, KT2 house cleaning
Make Your Life Easier With Our Reliable and Professional Putney Cleaning Services
Tending to your own cleaning and household duties is good if you can complete them thoroughly and to the best of your ability however, if keeping on top of your cleaning tasks is proving more difficult and you are finding it hard to manage the job successfully then it is time to call in the Putney professional cleaners. Eva Cleaners are here to help you with all of your household and office cleaning. We offer a wide range of cleaning services for those of you in the Putney area and can visit your property any time that you need us. Time is one of the main factors which stops so many people from being able to clean their own offices, homes or appliances properly and physical disabilities, illnesses and simply having no energy to do so also play a role in why it can be almost impossible to stay on top of your cleaning. We however, have the answer for you. Our Putney cleaning team work quickly and efficiently to provide you with cleaner upholsteries, kitchens, homes and offices, leaving you to forget about your cleaning tasks and focus more on your other commitments and responsibilities.
Located in the London Borough of Wandsworth, lies a district names Putney, which is a part of south-west London. Putney is a very lively and a fairly busy district, as it is known as one of Greater London`s thirty five main areas. Putney became part of the London Borough of Wandsworth in 1965, whereas before this time it was actually classed in the country of Surrey.
One of the famous faces who resided in Putney was the British artist and sculptor, Alan Thornhill. Alan Thornill had his own studio in Putney and lived and worked in this district for many years. Thornhill`s studio can still be seen in Putney today. Thornhill has many of his sculptures in Putney, nine of which make up the Putney Sculpture trail which was opened to the public in 2008. One of Thornhill`s better known sculptures - `Load` which is situated on Putney Embankment has been present in the district since 1989.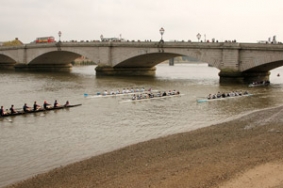 Two other famous artists and sculptors to have had links with Putney are Henri Gaudier-Brzeska and Jacob Epstein. Jacob Epstein, who lived and worked in Putney as a sculptor, was buried in Putney in the Putney Vale cemetery. Henri Gaudier-Brzeska, who died in France in 1915, came to Putney during the last year of his life and had his own studio here too. Today, Putney is more famous for its rowing events and has over twenty rowing clubs, which are all based on the Putney Embankment Thames.


Call Eva Cleaners on 020 3409 1608 to book your Putney cleaning services with us and don`t look back!
Enjoy coming in to a clean and fresh home or office all the time now, thanks to our high quality, excellent cleans. Make sure you reserve a parking space near to your office or home in advance so we can guarantee that your clean can be completed quickly and efficiently, without causing any stress or trouble to you. Our main aim is to leave our clients satisfied this is why we can also provide for you the website of
Wandsworth Council
where you can find very helpful information about your living area.
Postcode SW15 nearby postcodes SW6, SW13, SW14, SW20, TW18, KT2