Carpet Cleaning Surbiton KT6
If your home in Surbiton need thorough Carpet Cleaning, our local Carpet Cleaners in Surbiton KT6 can help you.
Call us today on 020 3409 1608 and get 50% Off!
Domestic Cleaning Company Surbiton carpet cleaning Surbiton KT6 end of tenancy cleaners nearby postcodes KT1, KT5, KT9 house cleaning
Let Someone Else Tidy Up In Surbiton, Tolworth and Long Ditton. Give Us A Call!
If you are finding that there just aren`t enough hours in the day or the children are making more of a mess than you have time (or energy!.) to tidy up then don`t worry, you are far from alone. There are literally thousands of people up and down the country who feel the same way; in fact there are hundreds in your postcode alone. Having the correct equipment can be useful but there is no substitute for professionalism and experience so don`t waste hours of your own valuable free time cleaning and polishing, scrubbing and vacuuming when your local Surbiton cleaning company Eva Cleaners are just a phone call away.
Think of the million and one better ways there are of enjoying that time and then give us a ring on 020 3409 1608 today
.
The KT6 postcode straddles the London Boroughs of Kingston Upon Thames and Elmbridge in an area of South West London which is historically considered a part of Surrey. It`s about 12 miles away from London Waterloo on the train and is a beautiful collection of Surbiton, Tolworth and Long Ditton.
Surbiton can thank much of its prosperity to a failure, after the original plan for a London-Portsmouth railway network fell through and was rejected by the Kingston Council. It was feared that it would have too much of a negative effect on the coaching trade (it`s hard to imagine isn`t it!. As a result the line was moved further south through a cutting in the hillside to the south of Surbiton and the local station was opened in 1838 as Kingston-upon-Railway. This changed to Surbiton later on but the station brought commuters and a new community that has continued to thrive ever since.
Tolworth has been around far longer has always remained a largely residential area. It appeared as `Taleorde` in the Domesday book, a place shared by Picot from Richard de Tonebridge and Padulf from the Bishop of Bayeux. At the time it rendered just £6 although there can be little doubt that the value has gone up quite a bit since then. Nearby are a variety of attractions for families to enjoy, from the roller coaster fun of Chessington World of Adventures to the greener spaces of Richmond Park and Sandown race course.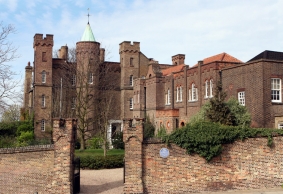 Long Ditton was also in the Domesday Book, with Ditton having been around since Saxon times. It was held in the 16th century by the manor house which was owed by the Evelyn family, who were lucky enough to be major producers of gunpowder during a period of English history that was more than a little explosive, bringing prosperity to the area.
In taking the decision to hire Eva Cleaners you will be getting not only a wonderful amount of free time to enjoy with friends and family, you will dealing with the Surbiton cleaning company that prides itself on the high quality and professional attitude it brings to jobs big or small, commercial or domestic. We work around you, every morning and every night, and even if you aren`t going to be in you can just leave us a key and we`ll take care of everything. Now is the time for all the things you wanted to do but never find the right time - to see the new museum, check some hype galleries or have a quiet time in some of the parks in Kingston Upon Thames and Elmbridge just click
here
or
here
for more information.
Postcode KT6 nearby postcodes KT1, KT5, KT9